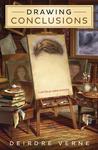 Drawing Conclusions
by
Deirdre Verne
My rating:
4 of 5 stars
I've gotten a little tired lately of the typical "themed" cozy mystery. At first blush, this book appears to be a cozy, but I wouldn't classify it as such. There is no gore, but there is some language and some sexy times (nothing over the top, but it's there). The main character is also a Freegan - we meet CeCe when she and friend Charlie are dumpster diving. They live in what amounts to a commune, established by CeCe, along with three other people - Jonathon and Trina, who are dating, and Becky, who is involved with Charlie.
The book opens with CeCe of the death of her twin brother, Teddy. It turns out to be murder. I'm sad that we never really get to meet Teddy as I think he was a cool guy. CeCe becomes a target, but it's anyone's guess as to why. Enter Frank DeRosa, detective. He's been requested by CeCe's father, Dr. William Prentice, to solve Teddy's murder and winds up guarding CeCe, along with two other officers. I like that there isn't friction between the house and the cops - they all wind up working together. The big catch to all of this is that Teddy was a scientist, working on decoding the human genome, and he worked at a lab basically run by CeCe's father.
One of the best things about this book is CeCe's involvement in finding out who killed Teddy is organic. She doesn't look to get involved, but after she becomes a target, her involvement (and her roommates involvement), just seems natural. It doesn't hurt that she's an artist with a gift for faces.
The thing I struggled with in this book was the Freegan lifestyle. I get organic farming. I get communal living. I get not wanting a 9-5 job (CeCe's an artist and her sketches did help solve the case). I get going with a used car, though I'm not sure why it had to be so ancient as a Gremlin - the gas mileage and pollution from that thing have to not be in line with Freeganism. Why not a used hybrid or even an electric car? I don't get not using a washer and dryer. I don't really get dumpster diving for food.
Despite the Freeganism angle, I very much enjoyed this book and look forward to reading the next one in the series. I liked the Detective. I liked how CeCe's skills contributed to the investigation. I liked how the other cops got along with the housemates. I liked that this was definitely not the run of the mill mystery. Odd main character, but in a way I like that she challenges me a bit. Recommended if you like a good mystery and/or are looking for a change from the "themed" cozy mysteries.
View all my reviews